2019 LSU Merit Badge Day

Merit Badge Day will be held on Saturday, March 30, 2019, on the LSU Campus. Check-in location will be in the Arcade (Breezeway) in the LSU Quad on the North Side of Coates. You can go to http://lsu.fligtar.com/ for a map. Scouts taking Environmental Science will be going to the LSU Lakes as part of their class and Scouts taking Golf will be going to the LSU Golf Course. A permission slip is needed giving permission for the Scouts to do these activities on Campus. The event is open to all Boy Scouts. Come out and have a day of enjoyment while working on merit badges. Some merit badges are all day while some are only 2, 4, or 8 hours. Please make note of these times. In some instances, the Scout may be able to take up to three merit badges. Check-in will be from 7:00 to 7:45 a.m. Classes will begin at 8:00 a.m. Lunch will be from 12:00 to 1:00 p.m.
Adults/Leaders
If you plan on staying and would like lunch with the Scouts, please register. The cost for adults is $15.00. We will also be offering training cources for adults. Those cources include Scoutmaster/Assistant Scoutmaster position specific training, CPR/First Aid & Youth Protection.
Parents - There are vending machines available, however, there is NOT a change machine available. Please send single dollar bills or coins with your Scout if they wish to purchase items from the vending machines.
Registration
The cost is $35.00, lunch included. Preregistration is required in order to have proper staffing. On time registration deadline is March 1, 2019. Late registration runs to March 22, 2019 and the cost increases to $40.00. Registration is done only on-line see below. Please note that the final deadline to register for Merit Badge day is March 22, 2019. No registration will be accepted at the door. Since some merit badges will be more popular, it will be on a first-paid, first-served basis. Please make sure that your Scout reads this information as well as the merit badge pamphlet. Some of the merit badges will not be able to be completed on this day. If anyone requires accommodation, please specify (seating, enlarged handouts, etc.).
There are some Merit Badges that have prerequisites use the link below to prepare for your classes.
Instructors PLEASE register on the link below and register as staff so we can make sure we have lunch for you.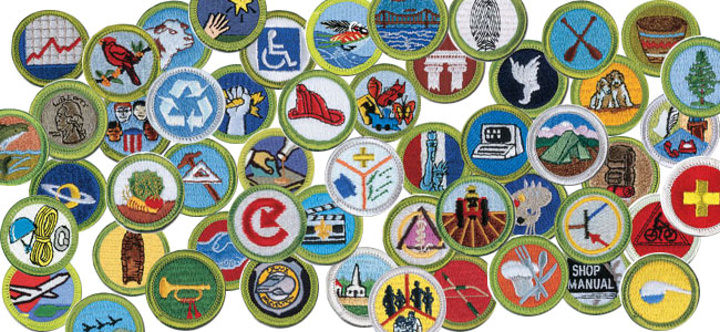 | File Name | Description | |
| --- | --- | --- |
| Merit Badge Day Schudule & Prerequistes | | Download |