Rescheduled to Spring 2023 - Sporting Clays @ Covey Rise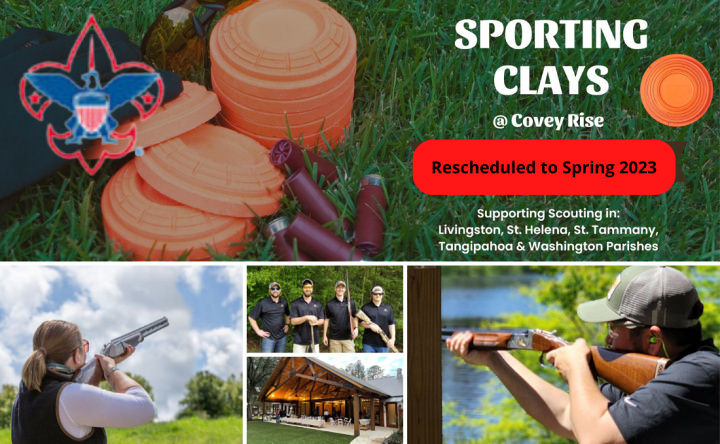 Date:
Oct 7, 2022
Location:
Covey Rise Lodge
24009 Singing Waterfall Road
Husser, LA 70442

This event has been rescheduled for the Spring of 2023.
Sporting Clays @ Covey Rise - Friday, October 7, 2022
Your team's skills will be tested at a clay shoot at beautiful Covey Rise. Lunch is provided as well as the shells! There will be an auction at the event. The course is set to be a fun shoot for all skill levels, but some stations will challenge even the expert marksman!
Location: Covey Rise, 24009 Singing Waterfall Road, Husser LA 70442
Event Schedule
7:00-7:30 a.m.
Registration
7:30-8:00 a.m.
Continental Breakfast
8:00 a.m.
Safety Training
8:30 a.m.
Competition begins

After competing, enjoy a delicious lunch with your teammates provided by Lt. Governor Billy Nungesser and the Tangipahoa Sherriff's Department.

11:30 a.m.
Lunch begins
12:00 noon
Awards Ceremony
The Covey Rise Sporting Clays Shoot is sponsored by the Istrouma Area Council, for the Nashoba District that serves the amazing families in Eastern Livingston, St. Helena, St. Tammany, Tangipahoa, and Washington parishes. Proceeds from the event benefit youth development in those areas.
The Scouts are faithfully led by a committed and dedicated team of adult volunteers who ensure that the Scouts have fun not only at our Day Camps, Summer Camp, and Winter Camp but at many indoor and outdoor activities throughout the year. Nashoba's Scouts can be seen visiting our local fire and police stations and volunteering at the Nashoba's American Legion, local VFW Halls, churches, and schools, as well as at our outdoor Northlake Nature Center, the faith-based Samaritan Center, and at our local Food Banks.
Nashoba District encourages our Scouts to truly live the words of the Scout Oath & Law and to "Do Their Best!" each and every day!
Sponsorship Levels
Title Sponsor - $5,000
Gold Sponsor - $1,500
Silver Sponsor - $1,000
Bronze Sponsor - $800
Individual - $250

Station Sponsor - $150

Sponsor name on all promotional materials and media
One 4-person team
One 4-person team

One 4-person team

12 & 20 gauge shotgun shells
Recognition at station
Sponsor signage
Shooter goodie bags
Shooter goodie bags
12 & 20 gauge shotgun shells
Two 4-person team
12 & 20 gauge shotgun shells
12 & 20 gauge shotgun shells
Station sponsorship
Cart
Shooter goodie bags
12 & 20 gauge shotgun shells
Cart
You can register online below and pay using your credit card. If you prefer to mail in your registration and check, please make the check payable to IAC-BSA and mail it to 9644 Brookline Drive, Baton Rouge, LA 70809.
We look forward to seeing you there.