BRBC Scouts Ride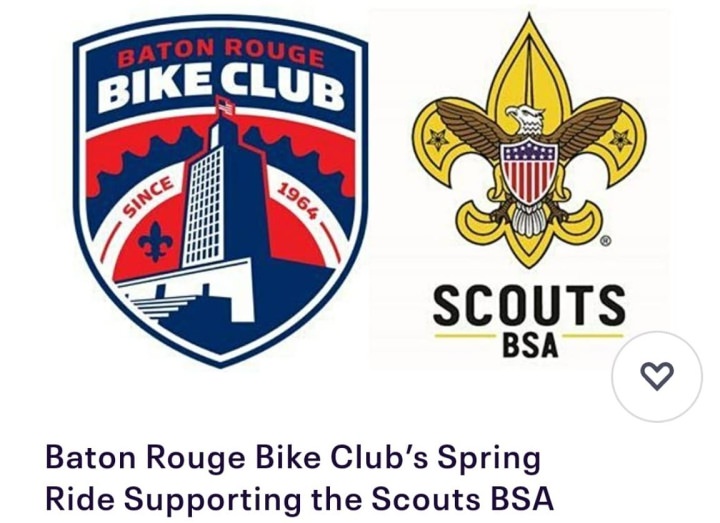 Date/Time:
May 14, 2022 6:30 am to 12:00 pm
Location:
Istrouma Brewing
5990 Bayou Paul Rd
St Gabriel, LA 70776

Join the Baton Rouge Bike Club with an event to benefit the Istrouma Area Council BSA.
Event by Baton Rouge Bike Club
Spring Ride Supporting the Scouts BSA - May 14, 2022 07:30AM - May 14, 2022 12:00PM - https://ridewithgps.com/.../176518-spring-ride-supporting...
BRBC's spring ride to support the Scouts and allow the Scouts an opportunity to earn merit badges for cycling. This will be a great way to show your support for scouting, while enjoying an easy supported ride.
BRBC membership is not required to participate. However, if you are not currently a BRBC member, you can take advantage of the combination ride registration and discounted membership.
Check-in/Onsite registration $55, starts at 6:30am. Ride starts at 7:30am.
Bring evidence of your registration with you and check-in at the registration table prior to your event. All registrations are non-refundable and non-transferable. Please note: tandem cyclists require 2 registrations. There is no RAIN date available for this event.
The ride starts/ends at Istrouma Brewing. If parking is full, please park at the Amanda Grace Park on Bayou Paul Ln nearby. Participants will receive 2 drink tickets for discounted adult beverages and 2 complimentary slices of pizza.
The main route will be approximately 48 miles on River Road to the stocked rest stop rest stop at the L'auberge Casino overflow lot at the turn around point. There will also be a rolling SAG. On the return, the route will go around the Bayou Paul loop (which also gives you the Amanda Grace park on the back half of the route as an unsupported rest stop).
The route map will be posted on the Baton Rouge Bike Club website and we will send it via email as well once it has been finalized.
There will be shorter route options as upcoming announcements for newer riders.
Safety Information:
Rides are held on public roads open to other vehicles. Riders should expect to encounter motorists and be prepared for road hazards. Participants should operate their bicycles in a safe and lawful manner, obeying traffic laws throughout the ride.
The BRBC requires the use of a ANSI/SNELL approved helmets for this event.
All children under 16 must be accompanied by an adult at all times.
Even though the closed section of Alligator Bayou is not part of this ride, PLEASE RESPECT THE ROAD CLOSURE SIGNS when riding.