2022 Nawaganti Fall Family Camp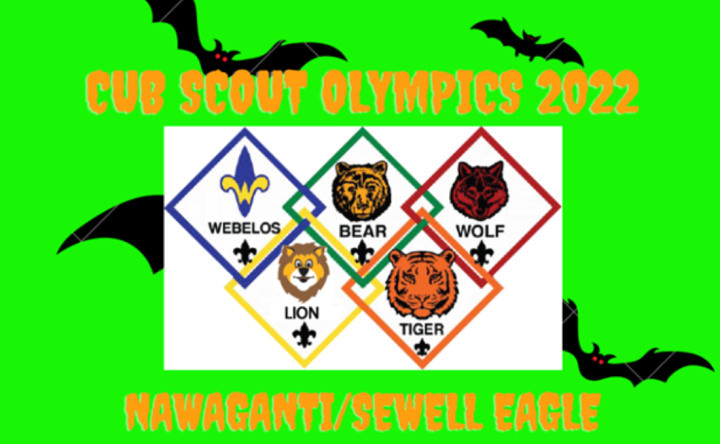 The Nawaganti Fall Family Campout will be combined with the Sewell-Eagle Fall Family Campout on October 28th-30th. Please register as a Pack so your Unit can be placed on the same campsite.
Things you MUST DO: HAVE FUN, drink lots of water, HAVE FUN, cook Saturday night, HAVE FUN, use the Buddy System, HAVE FUN, bring a costume, HAVE FUN, go through the "HAUNTED TRAIL" and get some treats, HAVE FUN, park in designated areas only, HAVE FUN, bring as many family members as possible…..oh, and in case we haven't mentioned it, HAVE FUN!!
The theme is Olympics, so be sure to participate and:
Shoot at targets with a BB Gun
Shoot at target with a bow and arrow at Archery
Do a craft
Try your hand at the Bean Toss
Use your feet in the Foot Race
Throw your best in the Paper Discus
Squat/Walk in the Chicken Race
Throw a Shot Put
Get a scout friend and try the 3-Legged Race
Push your body in the Standing Long Jump
Pucker up and whistle at the Whistle Race
Race to a cone and back using the Crab Crawl
Location: Avondale Scout Reservation, Camp McGee, LA 63, Clinton, LA. This event will be using the Back Entrance to the Avondale Scout Reservation located on Highway 63 and proceed for check-in. Please have your Fast Pass filled out and ready to hand in upon arrival.
On-Time Registration Fees:
Cub Scouts - $15
Non-Scout Siblings - $10
Non-Scout Siblings (ages 0-4) - Free
Adults - $5
Late Registration Fees, starting October 15, 2022:
Cub Scouts - $20
Non-Scout Siblings - $15
Non-Scout Siblings (ages 0-4) - Free
Adults - $10
Registration closes on October 21, 2022, at 11:59 PM.
There will be several contests for the weekend:
Fishing Tournament (bring your fishing poles, secret bait, and a ruler...)
Dutch Oven Contest
Costume Contest
Check the Leader's Guide for additional information.
Don't forget to bring a completed copy for each person camping a BSA Pre-Event Medical Screening Checklist and the Annual Health and Medical Record (Part A & Part B)