Avondale Scout Museum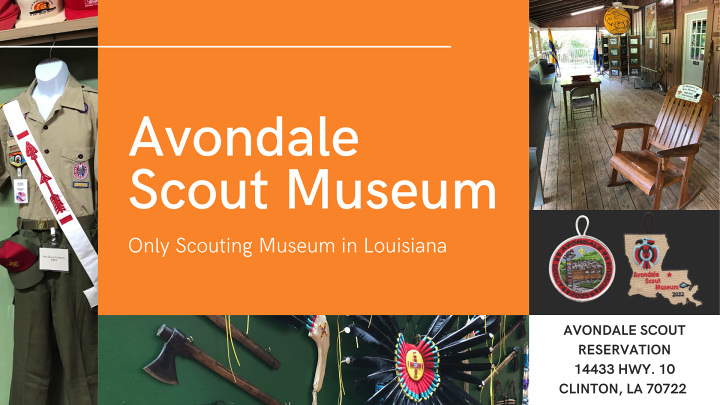 The Avondale Scout Museum is located at Avondale Scout Reservation. Housed in the historic Possum Trot Lodge, it is the only Scouting museum in Louisiana and houses collections of memorabilia related to Scouting, Camp Avondale, Istrouma Area Council, and Quinipissa Lodge.
What to See
Items on exhibit include uniforms, flags, patches, photographs, posters, Scout art, maps, equipment, and memorabilia. Exhibits are periodically rotated, so that repeat visitors can have a new experience.
The Collections and Scouting Heritage merit badges have been offered at the museum during summer and winter camps. Visiting a scout museum is a requirement for Scouting Heritage and this is the only one in Louisiana.
How to Visit
The Avondale Scout Museum is open all day during Summer Camp and Winter Camp. It can be opened on request for District and Order of the Arrow (OA) events at camp. Museum open house days will be held periodically. Visiting the museum is free. The museum is available on request for a scout unit visit when staff is available.
How to Participate
You can support the museum in several ways. The museum depends on donors who graciously donate scout memorabilia for the collection. Sponsors can help with cash contributions to help cover museum expenses.
Museum memberships are available for $10 per year, which includes an annual membership patch. For Scouters who have a deeper interest, you can volunteer to be on the museum staff.
Museum Past Events
During the 2022 summer camp, a historic Scout tent display was set up outside with 9 vintage canvas tents from the mid-20th century, along with three Indian tipis.
Future Plans
Future plans for exhibits include Wood Badge, High Adventure Bases, Venturing, and an expanded Order of the Arrow exhibit. The museum is seeking memorabilia donations for these displays as well as looking for at least one new glass display case.
Museum Picture Gallery