2021 NB Cub Shooting Sports Day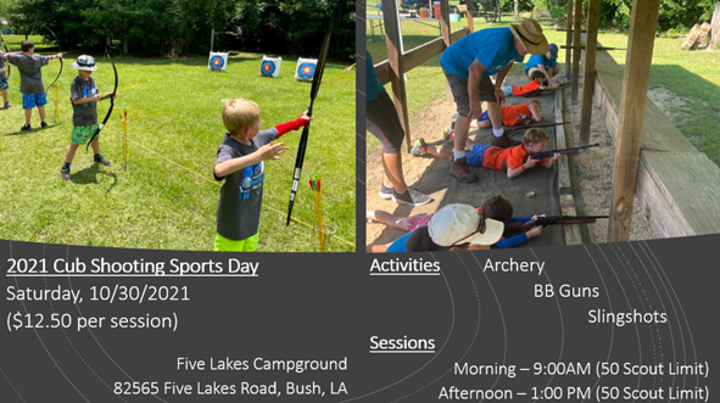 Shooting Sports Activities:
Location:
Five Lakes Campground, 82565 Five Lakes Road, Bush, Louisiana 70431
Cost:
$12.50 per registered Cub Scout…parents and siblings are FREE
Please register online as a pack. Registration closes on October 28, 2021.
Because there is a limit on how many people can participate and still allow for adequate programming, the event is limited to 50 youth (morning session) and 50 youth (afternoon session). THERE WILL BE NO at-the-gate registrations.

General Information:
Check-in for the morning session will begin at 8:30 AM on October 30th just outside of the Shooting Sports area. The event is limited so we can meet COVID-19 restrictions and allow for cleaning of equipment between units.
Check-in for the afternoon session will be at 12:30PM.
****All Participants / Staff (youth and adults) must read and fill out the three COVID-19 Documents listed below prior to participating and turn them in at check in. Everyone will follow the guidelines stated on the documents while participating in this event. Please bring your Medical Form Parts A & B with you as it is required to have at all Scouting Activities.
Right now, since this is an outdoor event, face masks will not be required, however there will be temperature checks. We will ask that you adhere to social distancing guidelines from people who are not in their immediate household throughout the event.
Annual Health and Medical Record
Questions: Email Tammy Durst @ tammy.durst@gmail.com or 985-789-4049
2021 Cub Shooting Sports (8:30 Morning Session) October 30, 2021
2021 Cub Shooting Sports (12:30 afternoon session) October 30, 2021